Just because your balcony is small doesn't mean that you should leave it as an empty space.There are lots of things you can do to make it a little more stylish, such as plants, furniture and small decorative touches. Here are a few ideas you can explore: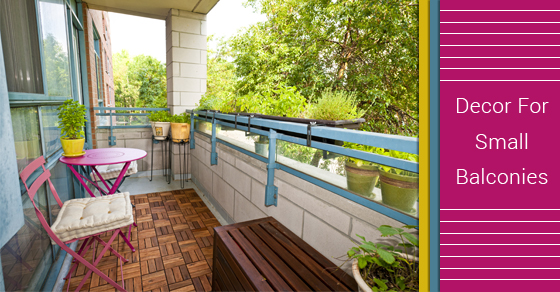 Small Furniture
Adding small furniture is a smart way to enhance your balcony. It can be just a table and chair. While it may not be ideal for practical use because of its small size, it can certainly still create a homey and cozy feel. Opt for wooden chairs over plastic, and add a small cushion and decorative table cloth for a little more style and personality.
Plants and Flowers
There's no a better way to decorate your outdoor patio than to add plants and flowers. Try using hanging plants to add some dimension and variety to the space and to bring a softer, more organic feel to the balcony. Another advantage to hanging plants is that they create a little added privacy, as well as shade. You can also make use of the wall of the balcony by having vines and climbing plants run up the walls. Beautifully painted flower pots can also help take your look to the next level.
Artwork
Small statues and paintings can also add some sophistication to your small patio. One or two pieces of stylish art can make a big difference to a small area.
A Stylish Rug
A rug can be another decorative feature of the balcony. There are lots of outdoor designs that are weather resistant and that go well with plants and pots.
Lights
A lamp is a great touch for your patio. It won't take up much space and it will illuminate the entire space. It will also make a handy addition to the space for anyone hoping to read in the evening. Some lights work better than others, so you should be a little selective about what kind of lamp you use. You can even use candle lights (preferably electric ones) to enhance the patio at night.
Decorative rocks
Rocks can actually be surprisingly decorative to a patio. When they are placed in the right way, they can make a good background. If you want to go further you can have these rocks painted or decorated. They don't have to be large, of course. You can use small rocks to complement the flowers and plants that are already there.
As more condos are being built and more people are choosing small economical places in the city, it's more important than ever to get used to small patios. Make the most of your patio by making it your own, settling in, and making it a comfortable place to relax on a sunny afternoon.