If you're thinking of building your own patio (or hiring a professional to do it), you may be wondering what type of materials to use. Wood is durable, sustainable, and stands up to the elements. Although we may only use our patios during the summer months, wood stays intact during the winter so it doesn't need to be replaced after every season. There are many woods available for patio building, but there are six in particular that are best suited for this type of construction.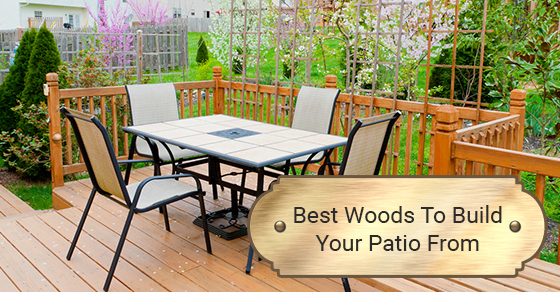 Mahogany

This is a tropical hardwood that ages incredibly well. Mahogany is resistant to rot and pests that like to make a meal out of patio wood. As it ages, mahogany takes on a silvery hue but still preserves its natural beauty. It is both durable and easy to maintain.

Redwood

This wood is soft and turns grey as it ages. Redwood is rot-resistant but needs to be sealed at least once a year to avoid blackening. However, that does not mean that redwood won't last. It is a very dependable wood that ages well.

Cedar

Cedar is a very common material used in the construction of patios. It ages well and stands up to moisture, heat, rain, sun, and cold. Cedar requires little maintenance and can last as long as your home does.

Ipé

This bug and rot resistant wood is gaining popularity because of it's beauty and heavy weight. Ipé is so dense that it is as difficult to burn as concrete. The only issue with this type of wood is that is considered "designer wood" and can be quite pricy.

Acacia

Acacia trees grow everywhere, so much so, that they are considered an invasive species. This wood is easy to find and ages nicely. Acacia stands up to the elements, especially water, and when treated, will rarely discolour and preserve its golden brown hue.

Cypress

This type of wood is stable, barely shrinks or swells, and doesn't require a tonne of maintenance. Cedar doesn't rot easily and holds its own against insects. As it ages, cedar turns a silver grey, but like Ipé, is a little pricier than the other wood options.
The wood you choose should be cultivated responsibly. If you are purchasing it yourself, ask the clerk at the lumber yard where the wood comes from and how it was harvested from the tree. Most woods bear proper certification that show that they were not taken from protected areas like national parks or rainforests.
For more information about patio wood, or to have Infinity Gardens build one for you, contact us. We'll do all the work so you can enjoy a gorgeous wooden patio that lasts a long time.