Project Gallery
OUR FEATURED PROJECT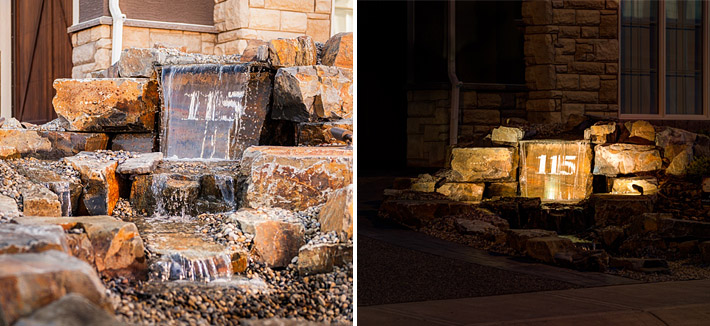 This project is a prime example of taking your indoor living space outdoors. From cozying up to a beautiful fireplace to relaxing in the privacy of your new backyard. You are living in a small paradise with the sound of a serene waterfall drowning out the sound of construction close by.
MOST RECENT PROJECTS
A good example of using fire and water in a renovated Calgary back yard
Beautiful show piece yard with a very contemporary style. Featuring a full masonry outdoor fireplace, one of our favorite projects that we have had the pleasure to work on
Award Winning Home and Garden Show display
Letting our imaginations guide us we were able to win an award for our creativity at the home and garden show, with our zen display
Arbour Lake Estates : Vacation in your own backyard
This project was a lot of fun to create. The customer was very imaginative and put a lot of his ideas into the design of the yard. This yard really is like having a vacation in your backyard. From the white sandy beach, to the giant chess board, to the mini golf. . . You don't have to go too far to find a retreat.
Mahogony Lake front yard water feature
Find a way to make your home unique with customer features like this beautiful front yard water fall with your house number placed on the rock. This gives your home a wow factor and a great first impression!
Strathcona : Back yard reno
This backyard renovation has a quaint country style outdoor living space in the corner of their backyard. Sipping wine and entertaining friends and family in the privacy of their
Cougar Ridge : House on top of the hill
Enjoy a cozy fire in your backyard any month of the year and take in natures beauty. Perfect for cozying up, sippng wine and feeling like the city is far away.
This is a perfect example of taking your living room outside. A simple renovation can create the most treasured memories.
A raised dining area, then stepping into a sunken living room. This backyard is a great way to add an extra 600ft to the size of your home. Anything is possible with even the smallest of backyards.
This backyard renovation features a stone front entrance, circular deck, and levelled back yard to maximize space usage. The perfect extension of your home.
This spectacular deck renovation is an entertainment haven. It features a custom built outdoor kitchen, hot tub, seating area and built in planters. It features a custom built outdoor kitchen, sunken hot tub, dining and seating area, a fire table and built in planters.