It's soon going to be that time of year again; people will soon be swapping their T-shirts and flip flops for heavy coats and winter boots. And instead of hiking or swimming, they will have to be shovelling snow. Removing snow from your home is not the most fun activity, but it is a necessary one— it can also be a dangerous one if it is not done correctly. Shovelling snow is not an activity that should be taken lightly and the number of injuries and hospitalizations related to this activity can attest to that. If you keep the following safety tips in mind, you can keep your home snow free without risking injury.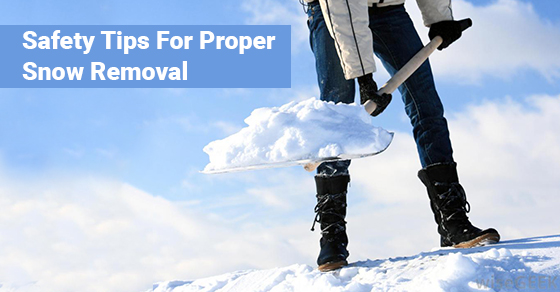 Shovel Only When You Can

While shovelling snow is considered to be a neighbourly gesture, it is not something you should force yourself to do if you are not physically able. If you are easily prone to injury or you have a physical condition that impedes you from performing this task, refrain from doing it. If possible, hire a snow-removal service company to do the job.

Pick the Right Shovel

Pick the right shovel for the job and for your size. If you use a shovel that is too big or too small for you, you risk injuring yourself due to strain or bad posture. As a general rule, snow shovels should be lightweight and the spade not too large.

Dress Appropriately

Dress warmly when you go outside to shovel snow. But if you are going to be shovelling a lot of snow, don't overdress, as you might find yourself overheating from the strenuous activity. Dress as you would if you were jogging in the cold. Wear boots that offer good traction when working in snow.

Warm Up

As you would before exercise, warm up your muscles. This can help you prevent injuries later on. Also do a bit of stretching if you can.

Push Instead of Lifting

When you are shovelling snow it is always easier to push instead of lifting snow. Lifting snow puts more strain on your body and is less efficient. To avoid lifting, make sure the pile of snow you are creating is within a short distance (not more than a few feet).

Pace Yourself

Don't go too fast, instead go at a reasonable pace so that you don't tire easily. Ideally, snow removal is an activity that should be done when you have the time (which is usually not before you go to work), but don't try to overdo it.

Drink Water

When you're cold, you are much less inclined to drink water. However, it is still important to stay hydrated even in winter (perhaps even more so), so drink plenty of water when you are engaging in any physical activity. Sports drinks are a good alternative.

Bend Your Knees

Always bend your knees when you are shovelling snow. Make sure the stress goes to your legs, rather than your back. Also, avoid twisting: point your entire body in the general direction of where you want to toss the snow (if you must toss).

Choose the Right Chemicals

There are chemicals that are available to help with snow removal. While they offer convenience, the downside is that they contain chemicals that pose a potential danger to you and/or your pets. Chloride is a common chemical in snow removal products and can irritate and even poison animals that come into contact with it. Use pet- or eco- friendly products instead.

Watch for Ice

Snow is not the only thing you have to worry about, ice presents just as much a problem—and you often won't know until it is too late. Assume that the area is icy and take appropriate action, such as using salt. Of course, use environmentally friendly salt.

Work From The Ground

If you are attempting to remove snow from your roof, work from the ground. Keep clear of the area where the snow is expected to land and use an instrument that is long enough to allow you to maneuver safely.
Shovelling isn't the most fun chore, but it can at least be a good workout if you do it safely. Like any other strenuous activity, safety is important. Stay warm, hydrated and practise good posture. Do not do more than what you are able to do and be especially safe when you are removing snow from the roof or if there is ice. If you would like any more advice on snow removal or snow removal products, don't hesitate to get in touch with us. We can help you find the right tools to get the job done safely and efficiently. Browse our website or give us a call for a free consultation.