Many people don't bother giving their patios a good cleaning because they figure it's outside and nature will wash everything anyway. Unfortunately, nature has other plans for your patio. You can extend the life of your patio by cleaning it a few times a year. So, how clean is your patio? If you don't know the answer, then it's time for a scrub down. The whole patio cleaning adventure shouldn't take more than an hour unless your patio is in particularly bad shape.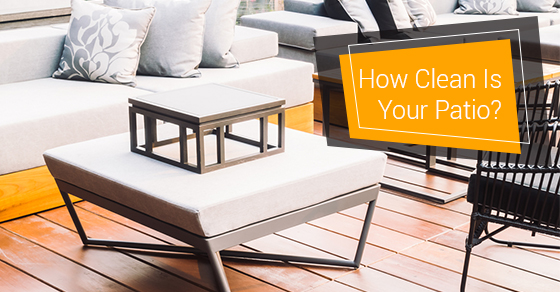 Before you get started see if you have the following materials in the house. You may need to visit a home and garden or hardware store to stock up.
You will need:
Hose or pressure washer
Bucket of warm water
Dish soap
Soft brush
Stiff brush
Empty spray bottle
Paper towels
Fabric protector spray
Borax
Bar of heavy duty laundry soap
Broom
Kitchen knife or small hand shovel
Rubber gloves or other gloves you can use to protect your hands
Start at the surface
First you will need to clear of the patio. You can also use this time to get rid of anything you don't use anymore. Create three piles; keep, give away and trash. Place items accordingly and keep them away from the patio while you're cleaning.
Put your gloves on and with your kitchen knife or hand shovel, remove any weeds that have grown up around the patio area. If you're worried about weeds coming back you can pour salt between the tiles, but do that after you're done cleaning.
Now that you've taken care of the weeds, it's time to sweep the patio to get rid of any debris and dirt that has accumulated. Once you've swept, it's time to get out the hose or the pressure washer. Rinse the patio down and ensure that you are keeping the spray nozzle at the same distance from the ground to get a uniform cleaning. If you've never used a pressure washer before, be careful and read the instructions. They are very powerful.
If your patio is only moderately dirty, water from the hose or pressure washer will be enough to get rid of dirt. On the other hand, if your patio hasn't been cleaned a long time, you will need to use your stiff scrub brush to really get the grime off. Use the bucket of soapy water and get to work. Then, use the hose or pressure washer again. Repeat as necessary. (If you have to repeat this process more than once, you should probably take this as a sign that you need to clean your patio more often.)
Before you put your patio furniture back in place, you should give it a good cleaning too. Here's how:
Furniture's time to shine
To thoroughly clean your furniture mix a cleaning solution of 1 teaspoon Borax, 1 teaspoon of dish soap and ½ cup warm water. Put the cleaning solution in a spray bottle.
Remove cushions from patio furniture and saturate both sides with the cleaning solution. Don't be shy with the cleaning solution either. Really spray it on the cushions and between the crevices and creases to get the mold and mildew off. Wait about 15 minutes for the solution to sit and then spray the cushions with your hose to ensure that all the dirt is gone.
Let your cushions dry until they are damp. If it's a hot day, this will take no time at all. Once your cushions have gone from wet to damp add the fabric protector.
If your cushions are made of canvas, do not add the fabric protector. Instead, when the cushions are still damp rub your soft scrub brush across the bar of heavy duty laundry soap. Then, run the bar across the canvas cushions. Heavy duty laundry soap is also great for awnings that are covered in bird droppings. After you've rubbed the scrub brush across the canvas you'll need to run the hose over the cushions again before letting them dry for good.
Plastic patio furniture is probably the easiest to clean since all it takes is soap and water. Scrub it down and then hose it off. You can use the cleaning solution if you want, but usually the dirt on plastic furniture comes right off with regular dish soap and warm water.
Wood furniture probably requires the most care when cleaning. You'll need to use a cleaner that is safe for wood. Moreover, you may have to sand, stain or repaint the furniture altogether.
Once your cushions and furniture are dry, put them back on the patio. Now you can sit back with a nice cold drink and admire the great cleaning job you did.